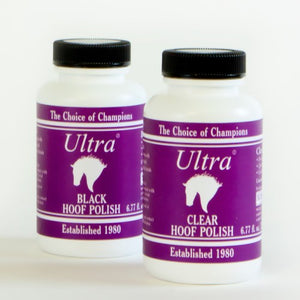 Ultra Hoof Polish produces a long-lasting, glossy finish on hooves of competition horses and ponies. Its quick drying formula seals out and repels dust, allowing your horse to look at it's best for longer!

Large applicator ensures a fast and precise application, preventing waste and messy drips.

Finish with Ultra Hoof Polish Enhancer to 'set' the polish for a long-lasting super shiny finish. Remove polish quickly and easier with Ultra Hoof Polish Remover.
• Quick-drying formula
• Seals out and repels dust
• Non-drip Applicator included
• Made in the USA
• 200mL