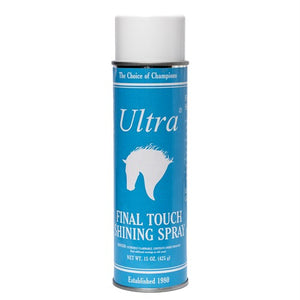 • The final touch to put a "million dollar shine" on the coat.
• Ultra Final Touch instantly creates intense highlights on horse's coats, manes and tails.
• Repels dust and dirt for a show ring shine that will keep your horse or pony looking its best all day.
• Extra gentle and will not irritate.
• Contains citronella to help repel flies and other insects.
• Made in the USA.
• 425gram Aerosol