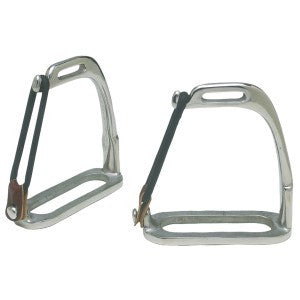 The ever-popular Peacock safety stirrups have a rubber ring on one side which will release under pressure to avoid the rider's foot from being caught in the stirrup.
This will help to prevent the rider from being dragged in the event of a fall.
Made from durable stainless steel with replaceable Peacock Iron leather straps and Peacock Iron rubbers.

Available in Small Childs, Childs, Ladies, and Men's sizes.
• Safety design
• Stainless Steel
• Replaceable leather straps & rubbers
| | |
| --- | --- |
| SMALL CHILDS | 3.3/4" (9.0cm) |
| CHILDS | 4" (10.0cm) |
| LADIES | 4.1/4" (11.0cm) |
| MENS | 4.1/2" (11.5cm) |