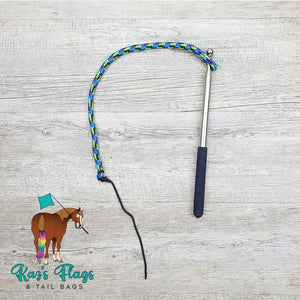 Modelled on a solid horse training whip our pocket sized Liberty Whip is ideal for on the go horse training.
Whether it be for liberty work or show halter horse training, you will find our new training tool another handy addition to have at hand or in your back pocket! 
The strings are handcrafted here in Australia by Kaos Kords, using quality double braided 6mm polyester rope. The rope is UV resistant, non stretch, colour fast and is fully washable.
With our Liberty Whip Combo you will enjoy the flexibility and choice of being able to do close in hand work as well as distance without having to lug around a long training pole. 
Our stainless steel pole extends from a pocket friendly 25cm-1.2m and is light weight but also quite strong. With choices from either a soft foam grip handle that is available in yellow, orange, red, purple, green, dark green, teal, blue, and dark blue. Or the new black rubber grip handle.
Please be aware that the telescopic pole is made of hollow stainless steel, so that they are retractable for ease of use and portability. It is important to note that this pole cannot be used like a solid training aid, as it will cause permanent damage to the pole. At the end of each use, ensure it is free of dust, dirt and debris; which can affect the motion of the retractable segments.
You will enjoy the flexibility and choice of being able to do close in hand work, as well as distance without the weight of a heavy horsemanship training stick. 

Due to its light weight it is suitable for less able bodied people, through to the most experienced user doing a long day of training horses. These Pocket Flag Liberty Whip Combos represent a great value for money Horsemanship Training Tools.