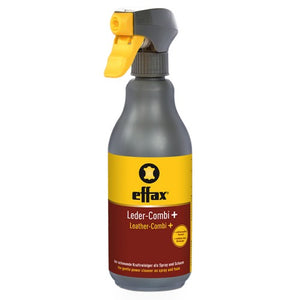 Effax Leather-Combi + Spray 500ml
Vendor

Saddlery Trading Company

Sale price

$26.92

Regular price
Tax included.
Adding product to your cart
• The optimum deep-cleaning product.
• Effax Leather-Combi quickly takes away the grime and grease.
• Cleans and nourishes the leather fibre with a unique deep-penetrating effect, without making the leather greasy.
• High-quality additives provide the leather fibre with the necessary nourishment so that the leather remains soft, supple and tear-proof.
• If required, the leather can be treated subsequently with Effax Leather Balm, or Effax Leather oil.

• 500ml
Features
• Contains: cleansing mild special surfactants

• All Effax Products are manufactured in Germany by Schweizer-Effax and fulfil the GMP Standard. The GMP Standard is the highest form of international recognition in the sector of pharmaceutical production. GMP (Good Manufacturing Practice) really means exactly what it says: guidelines regarding quality assurance of the production process and environment in the production of pharmaceuticals, active substances and medicinal products, as well as foodstuffs for humans and animal feeds. Quality assurance is of crucial significance in pharmaceutical production because even the most minimal variations in quality can have a direct effect on the health of the human beings or animals that use them.

Schweizer-Effax is the only official supplier of the German Equestrian Olympic Committee for the horse care area.
Use left/right arrows to navigate the slideshow or swipe left/right if using a mobile device