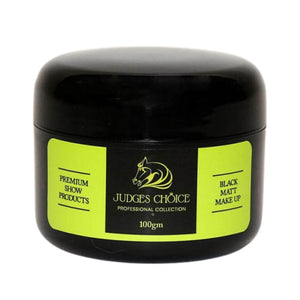 Judges Choice Black Matt makeup is an Austalian Made and owned makeup for your horse. Use Judges Choice Black Matt to cover scars, marks, light coloured hairs and brands.
Used around the horses eyes and muzzle to add definition and glamour to the face, enhancing our horses natural beauty.
This makeup has been developed to thrive in our warm conditions. It is an all natural, oil based, pigment loaded makeup that contains a sun filter.
Due to the amount of pigment, it can eliminate the need for constant shavind because of its depth of colour.