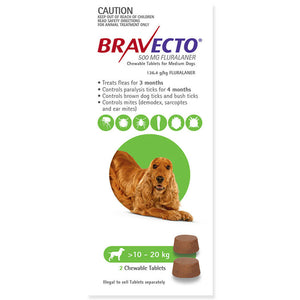 Bravecto 6 Month is a tasty pork-flavored chew for puppies and dogs that provides a month of effective protection, treatment, and prevention of flea infestation, paralysis ticks, brown dog ticks, and Demodex mites. This product is specially designed to protect puppies 8 weeks of age and older.
Hence, you can rest assured that your adorable puppies are protected as they grow into happy dogs free from nasty fleas and ticks.
Why Choose Bravecto 6 Month?
This product has a rapid onset of action that kills newly emerged adult fleas before they can even lay eggs.
It reduces the incidence of flea allergy dermatitis (FAD) by controlling adult fleas.
A single dose provides effective treatment and control of pre-existing ticks within 24 hours.
Bravecto 6 Month provides treatment and control of brown dog tick and Demodex mites.
Simple dosing (give chew at or around the same time you feed your pet).
Safe to use in puppies from 8 weeks of age and 2kg bodyweight. However, safety NOT established in breeding, pregnant or lactating dogs.